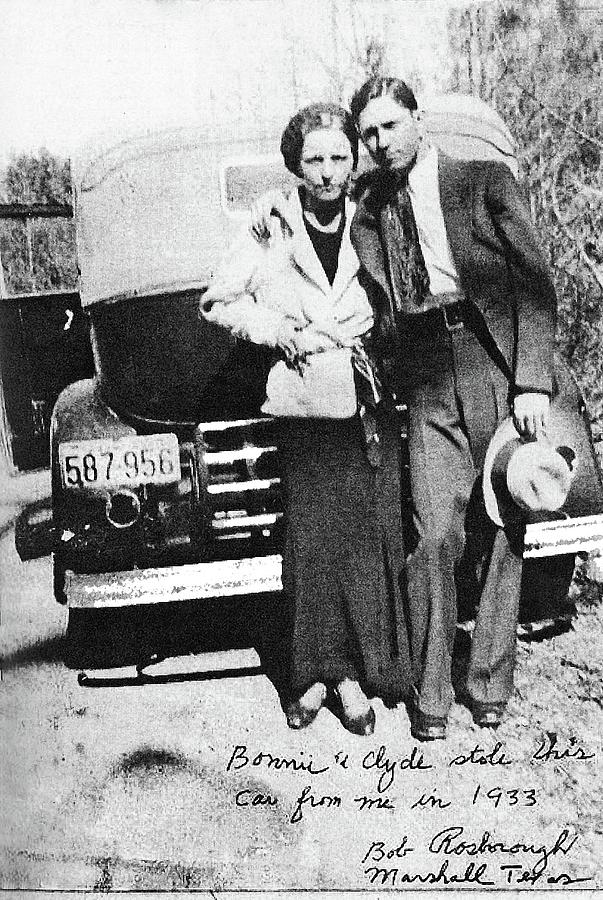 Title
Bonnie And Clyde With A Car Clyde Stole 1933
Medium
Photograph - Photography
Description
The Story of Bonnie and Clyde cont'd

If a policeman is killed in Dallas,
And they have no clue or guide;
If they can't find a fiend,
They just wipe their slate clean
And hand it on Bonnie and Clyde.

There's two crimes committed in America
Not accredited to the Barrow mob;
They had no hand
In the kidnap demand,
Nor the Kansas City depot job.

A newsboy once said to his buddy;
"I wish old Clyde would get jumped;
In these awful hard times
We'd make a few dimes
If five or six cops would get bumped."

The police haven't got the report yet,
But Clyde called me up today;
He said, "Don't start any fights
We aren't working nights
We're joining the NRA."

From Irving to West Dallas viaduct
Is known as the Great Divide,
Where the women are kin,
And the men are men,
And they won't "stool" on Bonnie and Clyde.

If they try to act like citizens
And rent them a nice little flat,
About the third night
They're invited to fight
By a sub-gun's rat-tat-tat.

They don't think they're too tough or desperate,
They know that the law always wins;
They've been shot at before,
But they do not ignore
That death is the wages of sin.

Some day they'll go down together;
And they'll bury them side by side;
To few it'll be grief
To the law a relief
But it's death for Bonnie and Clyde.

-- Bonnie Parker


They were not buried together. Their respective families thought otherwise.
Uploaded
October 23rd, 2016
Statistics
Viewed 229 Times - Last Visitor from Tarpon Springs, FL on 01/12/2020 at 4:49 PM